We wonder who is going to pay for this new Investigative Panel We the Taxpayers or the Banksters?
Meet Mrs. Elizabeth Warren, Chairwoman of the First TARP Panel
April 12, 2009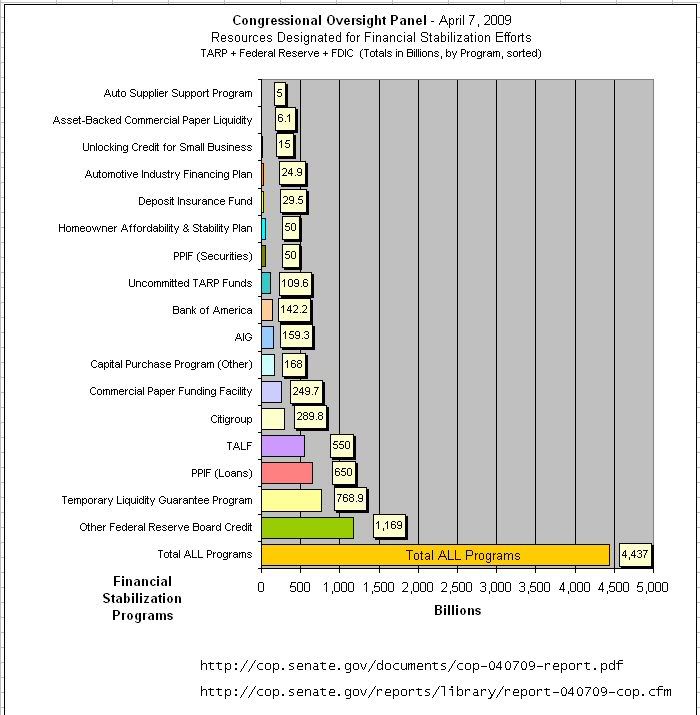 Elizabeth Warren wrote:
Elizabeth Warren: There's a major problem and a minor problem. The minor problem is documentation. I've spent four weeks now looking for someone who can give me the details of the stress test so that we can do an independent evaluation of whether the stress test is any good.
We get: "
someone will call [you] right back." Only the call doesn't come. The major problem is
...
Elizabeth Warren:
The major problem is that Treasury has not articulated its goals
. And without that, we can't have a robust debate about whether they're headed in the right direction; instead, we're stuck with this more technical argument about the implementation of the [Term Asset-Backed Securities Loan Facility] or the details of the Capital Acquisition Program. And that misses the central question of, should we be subsidizing failing banks or liquidating them? When we acquire capital, should we exercise more control over the institutions that take the money or less control? Those are the central policy issues that the American public has a right to participate in. (emphasis added)
Despite the apparent lack of Transparency, and the unreturned Phone Calls from Treasury, Elizabeth Warren and her Congressional Oversight Panel has manage to piece together their TARP Report anyways:
Source:
http://discuss.epluribusmedia.net/node/4060
Obama Signs Financial Bill, Creating Investigative Panel
Kate Phillips wrote:
May 20, 2009, 6:57 pm
President Obama on Wednesday signed legislation aimed at curbing financial fraud in the mortgage and other industries, including a provision that created an independent panel to investigate the root causes of the nation's economic downturn.
Congressional lawmakers from House Speaker Nancy Pelosi to prominent Democratic senators, with significant Republican support, had called for creation of a commission modeled after the Sept. 11 panel and a Depression-era set of financial hearings called the Pecora commission.
This one would have subpoena power; Democratic congressional leaders would choose six members and Republican leaders four commissioners, but its work would be independent of Congress.
But after signing the bill, the White House issued what is called a signing statement by Mr. Obama, which includes this advisory to agencies about the financial panel's potential reach:
Section 5(d) of the Act requires every department, agency, bureau, board, commission, office, independent establishment, or instrumentality of the United States to furnish to the Financial Crisis Inquiry Commission, a legislative entity, any information related to any Commission inquiry. As my administration communicated to the Congress during the legislative process, the executive branch will construe this subsection of the bill not to abrogate any constitutional privilege.
In other words, the president is reserving the right to claim executive privilege if the commission seeks information or documents that the White House considers to be beyond the bounds of public information and/or privileged communications and negotiations within the executive branch.
The Obama administration hasn't been shy in using signing statements for recent pieces of legislation like the omnibus public lands bill. In that case, however, the president directly challenged a portion of the law.
Signing statements have been used by other presidents, but the practice became highly controversial under former President George W. Bush, who advanced disputed theories of executive power through their issuance and challenged more provisions than his predecessors had.
As far as the financial commission's mission, lawmakers have described their hopes for it to delve into nearly every facet of the economic recession. After the bill signing on Wednesday, Representative John Larson, the chairman of the Democratic caucus from Connecticut, issued this statement: "
The American people are demanding answers about the collapse of our financial system. As we work to reform and rebuild the financial sector we also need to look back and learn from the mistakes of the past. In the past twenty years, our economy has suffered through the bursting of three major financial bubbles. We can't afford to let that happen again
."
Source:
http://thecaucus.blogs.nytimes.com/2009/05/20/obama-signs-financial-bill-creating-investigative-pa
MS Note:
Comment 18-th is the best, is right on the money!
Comments to Obama Sings Financial Bill Creating Investigative Panel
1. May 20, 2009 7:35 pm
Barney Franks and Chris Dodd would be a good place to start. — Carol
2. May 20, 2009 8:50 pm
Remind us again that nobody who isn't an insider in the tweedledee or
tweedledum parties gets a seat on any of these invetigative panels that
always whitewash the contributions of politicians of either of them to
fiascos.— Steve Bolger
3. May 20, 2009 9:00 pm
Q….."the root causes of the nation's economic downturn." ???
A……republican economic policy.
thank you very much.
cancel the panel and send my check to governor corzine. i'll gladly
donate the money if he'll use it to lower the tolls on the turnpike.— JP, milltown, nj
4. May 20, 2009 11:08 pm
Will this include oil markets? Why is a strategic commodity like oil traded
without proper oversight and regulations? What impact did oil
speculation have on our economy?— Matt P
6. May 20, 2009 11:54 pm
Elizabeth Warren is already running such a panel, and both parties are busily trying to silence her
.— B. Mull
6. May 21, 2009 6:55 am
Politics is just another monopoly here in the brain-dead USA
.— Steve Bolger
7. May 21, 2009 7:59 am
Obama wants this as long as he can keep things quite if they point to him or
his friends by executive privilege. Betweem his racism at white house
gatherings, broken campaign promises and executive privileges, and
flying all over in Air Force One to just show off when people are
hurting with no jobs. What A President?????— eddie123
8. May 21, 2009 8:15 am
Gee guys, don't you know that America is run for the benefit of
speculators? The insiders get to call the regulatory changes, so they
know what will happen to things like interest rates and oil prices
ahead of everybody else.— Steve Bolger
9. May 21, 2009 8:29 am
In a sense, how will Mr.s Obama solve the financial crisis?— Haydn Hsin
10. May 21, 2009 4:31 pm
The signing statement is a cover mechanism for Geither & Summers, and
any inconvenient truth this commision might discover in regards to the
dire effects of derivatives trading and speculator market manipulation;
the commision must not be allowed to dig so deep that Geithner &
Summers cannot keep their promises to Wall St.— RoloTomassi
11. May 21, 2009 4:52 pm
This will be a good development if the proceedings are made public. But we
need to remember that bubbles will come and bubbles will go. It's all
part of having an uncontrolled free market economy.
In this age of online communication, there is no reason why the
American people should be deprived of constant, regular monitoring of
these proceedings. No taxation without communication.— Carey Rowland
12. May 21, 2009 5:06 pm
"
Elizabeth Warren is already running such a panel, and both parties are busily trying to silence her
."
You may now add the President to this list. The causesa re
abundantly clear and the capture of the political system by the monied
interests is high on the list of what went wrong. While the commission
"investigates" I guarantee you Obama will use the opportunity to throw
ever increasing sums at the banks completing the rape of the American
taxpayer.
I am completely stupified by this man. He did not convey a true
impression of what he would do during the campaign. Never once did I
ever hear him suggest that he would use taxpayer funds to effectively
create a ruling oligarchy out of the bankers and the financial classes.
I can not understand how a black community organizer from Chicago
who must be intimately familiar with Fred Hampton, Stokley Charmichael,
the SDS, the SCLC and all the rest could do this.
It appears as all he did was internalize that knowledge and use it
do deceive people by playing to their emotions. Very nefarious. It sure
is buying him a lot of time and power though as many people simply
won't believe it of him until all the money has gone to the bankers and
the system crashes again but at that point of course it will be too
late.— Paul Bogdanich
13. May 21, 2009 5:08 pm
Nobody other than Ralph Nader should be in charge of this panel. They have all been bought.— putitupmike
14. May 21, 2009 6:45 pm
It seems clear that Barney Franks and chris Dodd along with Bill clinton
are going to get off free regarding the Freddie Mac & Fanie Mae
hysteria. countrywide does have conerns regarding their part in this
mess, and so do many big banks, BUT it was Mr. clinton and his members
on the housing committee in 1998 who promoted affordable housing for
low-income famiies. In 2004 it was republicans who cried out to do away
with this wastefull spending. It fell on deaf ears and the press help
railroad this nation into the mess it is in. don't blame Bush for this
alone. Washington is a cesspool. Both parties are responsible for this
debacle. Remember, Nancy Polosi's husband got inside information on
some important legislation, which was passed on to her husband. She
didn't even get a slap on the wrist. So go on an acuse a former sitting
President for our financial woes. Just make sure Mr. Clinton gets his
blame. Personally, President Obama is way out of his league as was Mr
Clinton and Mr Bush. they all got poor advice. we have had do-nothing
dems and repubs. in office who are bringing this nation down. The PRESS
is one of the main problems with their attitude. Power destroys good
judgement in both parties. The NY Times editorialist had better get a
grip on their hysteria over Mr Obama's election. Oh well, pretty soon
they will be out of work too!— ITruman
15. May 21, 2009 8:05 pm
I am so over both you republicans and democrats. I want a new party that
actually has something to offer the American people instead of all the
lobbyists and their schemes..— I'mwatching
16. May 21, 2009 9:09 pm
The Republican Economic Policy has placed this country in a very bad
economic state. The Republicans have always run this country down
financially and a Democrat has to always come in and clean up the mess.
Republicans should sit back and watch how a country should be run and
how all people benefit, low income and high income, Republicans and
Democrats when a Democrat is in charge. -R.Jackson
17. May 22, 2009 6:45 am
"the president is reserving the right to claim executive privilege if the
commission seeks information or documents that the White House
considers to be beyond the bounds of public information and/or
privileged communications and negotiations within the executive branch.
" So, why investigate and what happened to the "transparency" promised? —Sharon
18. May 22, 2009 8:07 am
Everybody already *knows* that the downturn was caused by inadequate regulation
(or too much regulation) and dishonest and greedy bankers (orborrowers).

But as Mark Twain said,

what hurts you is what you know for sure that just ain't so

.

What Obama needs to realize is that even with perfect regulation and
honest bankers and borrowers, our present fractional reserve banking
system is doomed to collapse.

His panel must examine carefully the charge that our fractional
reserve banking is UNSUSTAINABLE; that, just like a Ponzi scheme, it
contains the inherent fatal defect of unsustainability. But the panel
won't examine this thesis.

Academic economists simply ignore this question, and assume an
underlying stability that a few non-academics (Bill Still, Stephen
Zarlenga, Ellen Brown, Paul Grignon) have shown to be illusory.

Bankers avoid the question of sustainability like the plague,
because the necessary reform, full reserve banking, would deprive them
of the right they now enjoy to create 97% of our money from nothing,
and first own it, just like counterfeiters.

Obama's panel will likely consist of academic economists and
bankers, who won't question the sustainability of fractional reserve
banking. Following their advice will bring him down after only one
term, just as Johnson was brought down by his advisors on Vietnam –
"the best and the brightest". -ThomH
MS Note:
ThomH is right on the money!
19. May 22, 2009 10:50 am
I just don't trust Obama anymore. The timing here is so after the fact.
Hoping that the Michael Moore film due out in October will give us
something into which we can sink our collective teeth. — freelyb
Source:
http://thecaucus.blogs.nytimes.com/2009/05/20/obama-signs-financial-bill-creating-investigative-pa