Did Goldman S cooked this problem for Greece?
Fed Moves $421.8 Billion Without Warning, Is the Fed Bailing out Greece?
The Fed Activity
: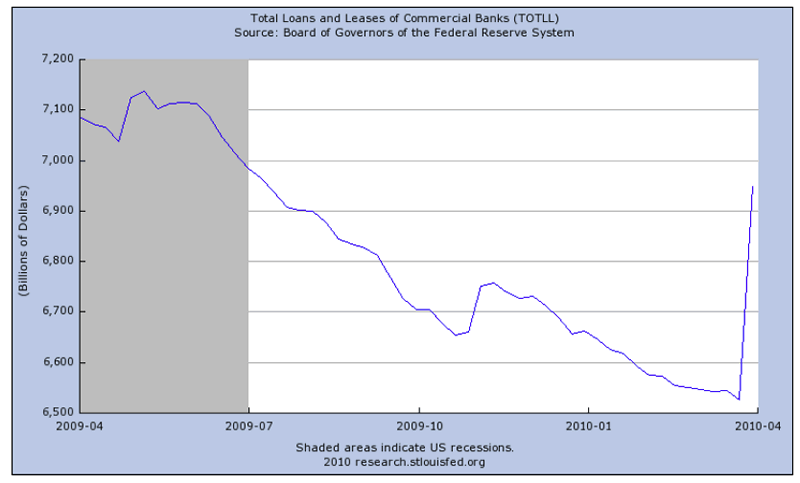 April 22th, 2010, Greek demonstrators scuffle with riot police outside the Finance ministry Photo: AFP/Getty Images
Source:
http://www.telegraph.co.uk/finance/fina ... rkets.html
Source:
http://www.turkeymacedonia.files.wordpress.com
Source:
http://www.scrapetv.com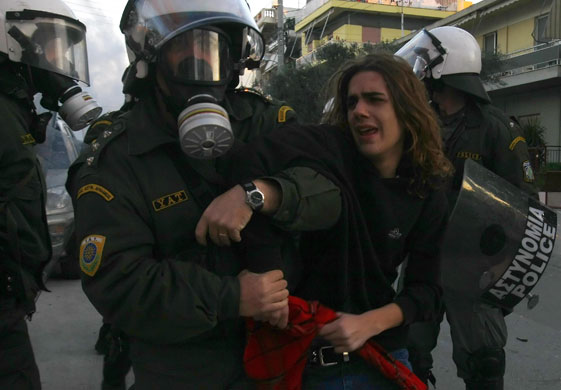 Source:
http://static.guim.co.uk
Dr. Jeffrey Lewis wrote:
Where's the Money?
Each week, the St. Louis Fed releases data regarding the Federal Reserve's activity and public balance sheets. In ordinary times, this data is usually largely ignored, as the mainstream media has little interest in probing into the "small" $5-10 billion changes in the Total Loans and Leases of Commercial Banks. The week of March 24-31 was different, however, as the Federal Reserve made $421.8 billion in new loans, more than it made in the week following the Fed's big moves to combat the financial crisis in 2008!
Is the Fed Bailing out Greece?
Economists are all but left in the dark on the actual operations behind the scenes, and they have minimal data to investigate other than what the Federal Reserve is willing to release to the public. However, the timeliness of this most recent surge in lending activity suggests that the Federal Reserve may be taking a hand in bailing out foreign nations, or Greece in particular, by shoveling funds through commercial banks.
This wouldn't be the first time a bank was used to bail out foreign debtors. AIG, the leading recipient of TARP funds, was used as a gateway to transfer US taxpayer funds to foreign banks owed money. Of course, the ailing insurance company virtually collapsed nonetheless, but long after the funds were delivered from the US Treasury to foreign institutions.
Pull the Alarms!
Rarely are large monetary policy decisions made without an explanation from the Federal Reserve, and even more rarely are they conducted in just one week. To put the recent lending in perspective, $421.8 billion is more than the total increases in lending throughout 2005. There has never in the history of the Federal Reserve been such a massive increase in total lending. And never should anyone expect that lending of this magnitude would be done without any explanation. To put it simply, there is big money moving, and no one knows where it's going, for better or for worse.
Timing is Everything
The huge jump in lending comes just days after the Federal Reserve ends its operations to buy agency and other US debt, and just a few weeks after the looming European debt crisis emerges. Clearly, the timing couldn't be any more interesting, as the Federal Reserve is either indirectly financing international bailouts or continuing to expand the money supply without any prior knowledge.
Gold and Silver Set to Soar
Either explanation for the gross increase in the money supply is a boon for precious metals, which have experienced an even more impressive month as manipulation comes to light. If the Federal Reserve is acting to bail out foreign nations, or to buy up Treasuries or other Agency debt, it should be clear that inflation is sure to run rampant. Head for the hills – unprecedented monetary policy is taking place without any authorization, explanation, or (from what we can tell) causation.
Dr. Jeffrey Lewis, in addition to running a busy medical practice, is the editor of Silver-Coin-Investor.com and Hard-Money-Newsletter-Review.com
Copyright © 2010 Dr. Jeff Lewis- All Rights Reserved Disclaimer: The above is a matter of opinion provided for general information purposes only and is not intended as investment advice. Information and analysis above are derived from sources and utilizing methods believed to be reliable, but we cannot accept responsibility for any losses you may incur as a result of this analysis. Individuals should consult with their personal financial advisers.
Source:
http://www.marketoracle.co.uk/Article18649.html
More data on Greece here:
Quote:
Friday, April 23, 2010
Moody's Downgrades Greece, 10Y Bond Yield 8.84%, CDS 633bps, Greek Shares Testing February Low and Euro Testing Lows (Charts)
Today Moody's downgraded Greece's credit rating to A3 from A2 on higher debt servicing costs and revised budget deficit. They need to refinance an $8.5 billion bond by May 19. Read these articles:

Greece's Credit Rating Lowered One Step by Moody's - BusinessWeek
Greece May Seek Bridge Loan as Bond Redemption Looms - Bloomberg
Greece seen with little choice other than to activate aid plan - MarketWatch
Moody's cuts Greece's sovereign ratings to 'A3' - MarketWatch
Greece faces tight timeline before May debt crunch - Reuters
Greece Problems Spreading on Credit-Risk Selloff, El-Erian Says - Bloomberg

The Greek 10-Year Bond yield hit a new high of 8.84% and 5-Year Greek CDS (credit default swaps or default insurance) on Greek debt hit 633 basis points according to CMA Datavision. Remember my post from January [Pricing of Greek CDS, 10Y Bond Yields Sense Risk (CDS 399bps, 10Y 6.85%)]. You can see how important this data is. In 2.5 months the Greek 10-Year yield is up 200 basis points (2%) and CDS is up 234 basis points (2.34%). Market participants are pricing the risk of default.

Greek equities are testing the February low. If Greek shares don't hold support here I don't see support until the early 2009 bottom (see chart below). The Euro Index is also testing lows. Judgment day is near for Greece, Europe and their currency. See charts below.
Read more at the source here:
http://www.distressedvolatility.com/201 ... .html#more